28 Apr

2 Tipi Floor Plan ideas for weddings and events

Two tipis will create a stunning outdoor wedding venue or event venue for 40 – 120 day guests. This article is all about floor plan options and seating layout ideas so you can plan your tipi wedding or tipi event.

These two tipi layouts are priced at between £3920 – £4600, including VAT & the damage waiver fee but excluding delivery.
2 TIPI FLOOR PLAN FOR 40 DAY GUESTS
We worked at a beautiful wedding in June 2019 where the bride and groom wanted a small, intimate ceremony with only their closest friends and family to celebrate their new life as a married couple. 2 Tipis provided them a spacious venue, with 6 guests sat at each of the 7 tables around the central fire pit, with the cake table, bar, dance floor and band in the second tipi. Stacey and Hassan chose Vaughan's Kitchen for a relaxed and interactive dining experience. Roast lamb was carved at each table by a guest nominated by their fellow diners, served with bowls of fresh salad.
2 TIPIS FOR 80 DAY GUESTS
When two tipis are joined, a lot of space is created where the canvases overlap. For weddings and events for 80 day guests, this central area is perfect for a head table whilst keeping the dining area to one side of the tipis. 80 guests in two tipis is plenty of room, so you'll have space for a bar, extra tables to display the seating plan, receive cards and gifts or cake and cheese displays.
The seating doesn't have to be in a fan around a fire pit, you could create long banquet tables as shown in the floor plan suggestions below.
The second image of the tipis with the entrance at the head of 2 tipis was created to prepare for our Open Day at Wild Woodland Celebrations in Nailsworth. The tipis are orientated this way because the tipis are nestled between trees, but don't think that this entrance isn't as grand as a central entrance – it still looks incredible. This type of entrance has been created often as a second entrance, and it is also the most popular way to create an entrance to three tipis when they're set up in a triangle.
2 TIPIS FOR 100 DAY GUESTS
2 tipis will provide a comfortable space at your wedding or event for 100 day guests, in fact, you can seat up to 120 guests in 2 tipis so this is still below their capacity. With seating for 100 day guests, the seating will overlap into the second tipi and so you may want to consider what other furnishings you'd like to include and where you'd like them to be.
You'll also need to consider how many evening guests you are inviting. If you are concerned space will be an issue, I would recommend speaking with your tipi provider to get some advice.
OPTIONS TO CREATE MORE SPACE:
Ask a few of your guests before the wedding to be responsible for moving a few tables to the side when the evening entertainment begins. As the tipi canvas slopes upwards towards the centre, you won't lose any usable space by popping the tables to the side. Just remember not to take away tables where your elderly guests are sitting!
Another option is to use an extension kit to create more space. We have a Crystal Wall Extension, which is a PVC window panel and zip door way. When you lift a side, you normally create an entrance, but this panel fits over the entrance space to create a large window, letting in natural light and giving you 30% more usable floor space in 1 tipi.
2 TIPIS FOR 120 DAY GUESTS
120 day guests is the maximum number of seated guests we'd recommend within 2 tipis and you will need to think about what other furnishings you plan to have inside the tipis, but this isn't to say that this is not for you.
Things to consider…
How many evening guests will be coming?
Will your bar be inside or will you have a mobile bar outside?
Do you want an indoor chill out area or will this be outside – perhaps around an outdoor fire pit?
How many extra tables will you need? A cake table, seating plan display, cards & gifts table etc…
When deciding your floor plan, do you mind moving a few tables or is this not right for your wedding?
If you're not sure whether you'll have enough space, talk to your tipi supplier. You can chat with them about your plans and they'll be able to make recommendations based on these.
120 DAY GUESTS WITH THE CRYSTAL WALL EXTENSION
The Crystal Wall extension is a great way to add more space without going up to 3 tipis. You get 30% more usable floor space in one tipi with this kit so it's well worth it, and the natural light makes such a different to the feel of the tipis. In both of these examples, the Crystal Wall extension kit is included.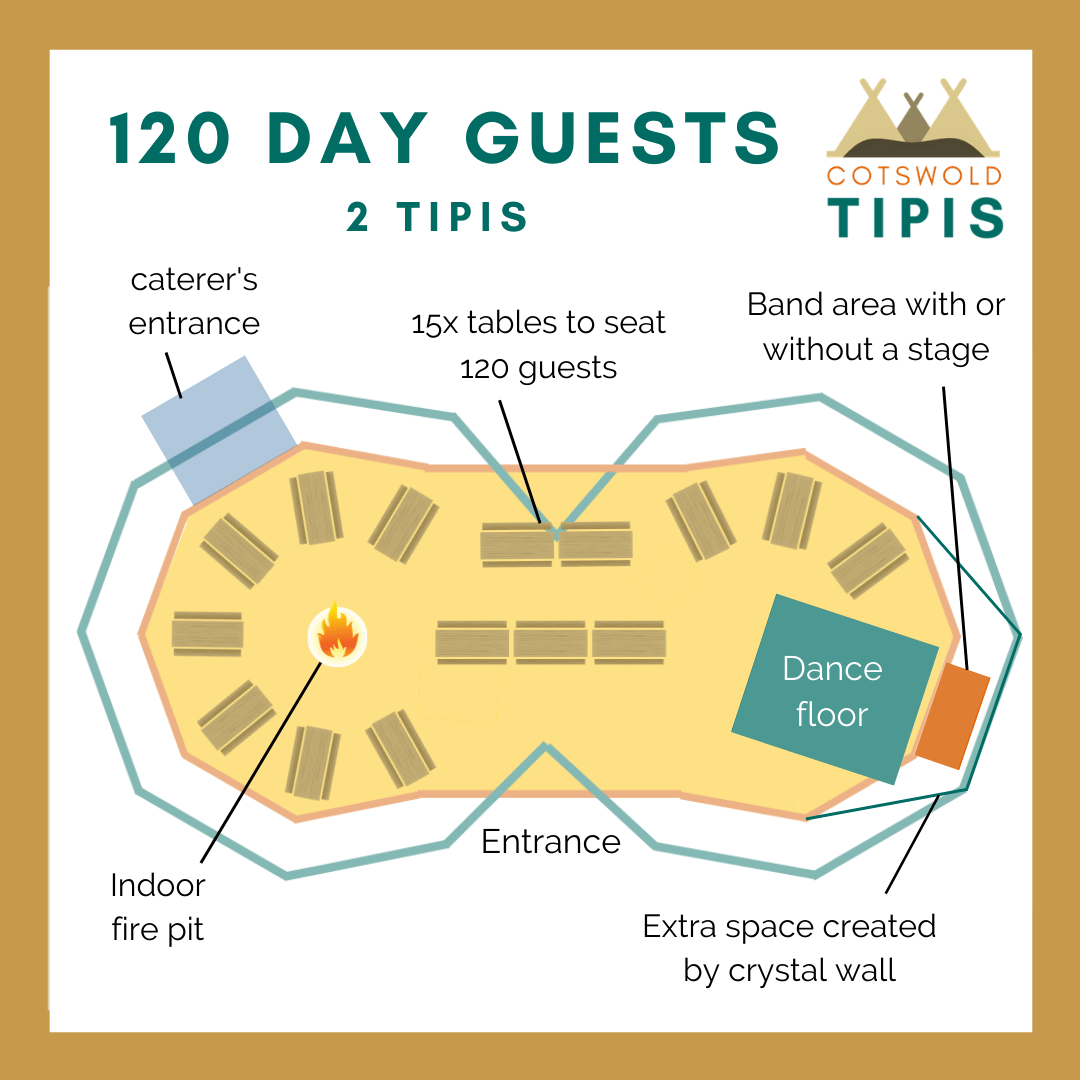 VIEW 3 TIPI FLOOR PLANS
GET A QUOTE
Cotswold Tipis is a tipi and bell tent hire company based in Nailsworth, Gloucestershire. We service the Cotswolds, Gloucestershire, Oxfordshire, Warwickshire, Worcestershire, Herefordshire, Somerset, Monmouthshire, Wiltshire, Hampshire, Berkshire and Buckinghamshire.