28 May

Tipi Entrance Options

Everyone wants that WOW effect, and so knowing where your entrance will be is really important for planning your big day.

There are certain rules to where the tipi entrance can be. They are dictated by how your tipis are connected and where any other entrances are. 

Whether you are having an Open Entrance (open air – no fitted door panel) or an All Weather Entrance (a closed entrance using a fitted door panel), the principles are the same. 

1. A Tipi has 9 poles, so there are 9 Sections (the area between 2 poles).  Each section is about 3.15 metres wide. 

2. An Entrance is created by using Lifting Poles which attach to two adjacent poles and lift up a Section. The lifted Section, and the two sections either side which slope downwards, become your entrance.   

3. Additional Sections are lifted to create a wider entrance. 

4. Leaving the Tipi safely secured is really important so it is not possible to change the Entrances throughout your day. We aim to leave the Tipis as you intend to use them, and the Canvas will be secured to the ground.
2 TIPI "TOP" ENTRANCE OPTIONS
Note: the All Weather Entrance/Extension can only be added to an area where one section is lifted.
3 Tipis can be set up in a Triangle or Linear Formation.
3 Tipis, two at front, one at back – central entrance
3 Tipis, two at front, one at back – wide central entrance
3 Tipis, one at front, two at back – top entrance
3 Tipis, one at front, two at back – extra wide top entrance
OPEN CENTRAL ENTRANCE FOR 3 TIPIS
Wide Entrance for 3 Tipis (4 lifting poles):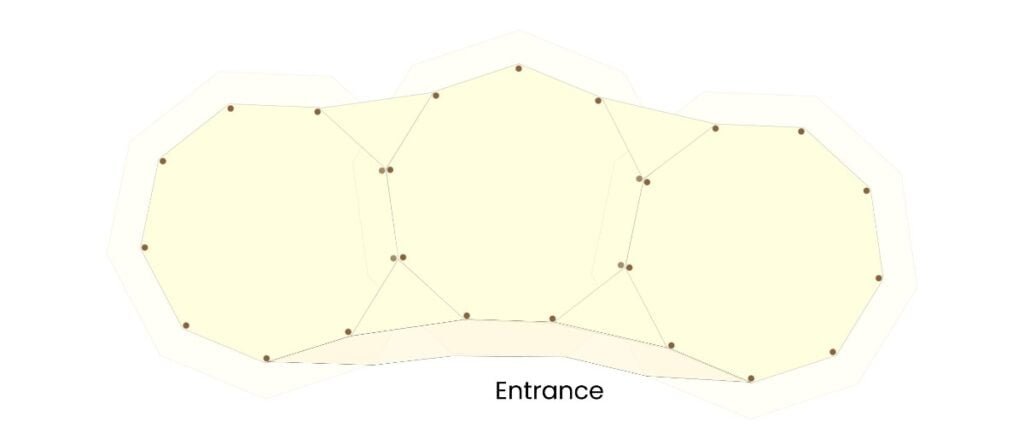 Extra Wide Entrance for 3 Tipis (6 lifting poles):
Fully Open Front for 3 Tipis (8 lifting poles):
USING THE ALL WEATHER ENTRANCE
If you plan to use an All Weather Entrance, it can either be placed off-centre, as below, or as a Top Entrance. This is because the fitted panel only fits into a space created by lifting 2 Lifting Poles. See examples below:
NB: Due to how the canvas attaches to the tipis, it is not possible to create this size entrance in the centre of the tipis. 
The Entrances in the two options below can be placed on the right hand side or left hand side.
WHEN WILL WE DISCUSS YOUR ENTRANCE OPTIONS?
At your Site Visit. 
The aim of the site visit is to meet you, view the area where the tipi will be set up, check the access and talk through further details with you. It is helpful for us to understand your vision and which other suppliers will also be present. Having this conversation on site is really helpful so we can understand your vision as a whole, and make sure that the Tipi space works for you and the other suppliers working with you. 
We will discuss Entrance Options with you and also where any zip doors will be for caterer's or band access. 
At the end of the Site Visit, we will have a plan for
where the Tipis will be positioned
their angle (towards a view or towards where Guests will enter)
where the Entrance(s) will be
where any zip doors will be for access to the loos or caterer's tent etc
where your other suppliers will be (loos, caterers etc) – helpful if it is a small site
+ other details, such as the position of a Festoon Light Walkway
a "Plan B" in case of poor weather
The next we time will be at your venue will be to set up your Tipis, so this plan means our team can crack on with the build!
WHEN DO I NEED TO CONFIRM MY ENTRANCE CHOICE?
You don't need to have already decided at the time that you book how you would like your entrance. We have enough Lifting Poles to open up the full front of your tipis – whether that's 1 Tipi or 4 Tipis in a row.   
Hopefully by the end of your Site Visit we will have a plan for your Entrance. If not, we would ask you to confirm your Entrance no later than 8 weeks prior to your event.
Talk to us if you have any concerns about the weather and needing to make last minute changes. We understand that you may wish to downsize your Entrance due to the weather and this can be decided in the days prior to set up. 
OTHER ARTICLES WHICH MAY INTEREST YOU...