15 Oct

Cotswold Tipis September 2019 Open Day Photos

Our September 2019 Open Day took place at Denfurlong Farm, a fantastic venue in the heart of the Cotswolds near Cirencester.
Cat Stephen Photography at the Cotswold Tipis Open Day
We feel so lucky to have had Cat from Cat Stephens Photography join us. Cat's photos are artistic, full of texture and real. We knew Cat's photos before we'd met her – she has some absolutely stunning shots from weddings and engagement shoots. One couple's photos actually made me cry… it's happened to us all, right? Photographers have to be personable, they need to get on with you and your partner and your family, and effortlessly be in the right place at the right time to capture some of the precious moments of your wedding day.
Cat arrived early and got her photography stands set up before anyone else had arrived, and it didn't take long for her warm and bubbly personality to come through. Turns out, Cat was an absolute blast to have around on the day and we really enjoyed spending the day with her.
All of the photos below were captured by Cat Stephens Photography.
You can see more of her photos on her website here or on Instagram @catstephensphotography
The Lily Pad Florist
We didn't actually meet Gemma until the Open Day itself, we exchanged of a few emails while Gemma was on holiday and she kindly offered to join us. Gemma had said that she had some ideas for something really cool, and honestly we didn't know what to expect.
Gemma quietly set to work on arrival and completely blew us away with her creations. A lush tropical hanging piece hung from the tipi frame above the head table with wide reaching ferns, delicate white flowers and hanging amaranthus. A tall, vibrant flower garden stood by the entrance (inspired!) and her bohemian bridal bouquet in burnt oranges and white with that incredible King Protea! I.N. L.O.V.E.
Wild & Brie Grazing Tables
Grazing Tables have been really popular overseas for quite some time. I believe the trend began in Australia for these dense and indulgent tables covered in breads, olives, dips, meat, chocolate, fruit, chocolate and anything else nibble-able. Of course, Grazing Tables can be made to order, to suit all palates and all dietary requirements.
Jess began creating Grazing Boxes for friends and family, then Grazing Tables at Christmas and Parties. Now, she's one of the few wedding and events caterers who specialises in this mouth watering feast for the eyes.
A perfect addition to tide people over until lunch or dinner is served, Wild & Brie's Grazing Tables are completely bespoke so you can discuss with Jess how much you food you would like to be provided.
Find Wild & Brie on Instagram @wildandbrie_ or Facebook
Occasion Queens Cotswolds and Sally's Secrets wedding prop hire
Occasion Queens provides on the day setup and coordination that gives you the freedom to focus on celebrating in style and the reassurance that everything is always under control. The OQ ethos is: attentive, stylish, quality, cool, detailed and easy. Established in 2016, Occasion Queens has branched out to the beautiful Cotswolds, led by Sally Norman.
Sally has been an Occasion Queen for the last few years, working before in creative arts and visual merchandising. Sally brings visions to life. Sally joined us at the Open Day to provide coordination and styling with the help of Sally's Secrets, providing tableware and props. Sally's Secrets is Sally's personal collection of tableware, props, linen and all the bits and pieces you may want to hire for your wedding.
Find out more about Occasion Queens here and Sally's Secrets here.
Cotswold Tipis & Denfurlong Farm Wedding Venue
The location of our Tipi Open Day will be at Denfurlong Farm, a 5th generation family run venue in the superbly located, picturesque Cotswold village of Chedworth.
Just 15-20 minutes from both Cirencester and Cheltenham, Denfurlong Farm is the perfect place for private events and weddings in Gloucestershire, Oxfordshire and the Cotswolds. This venue represents new opportunities for events and weddings in an unspoilt, natural environment whilst having the comfort and convenience of pre-existing on-site facilities.
With a fixed toilet and shower block, farm shop, cafe, water supply and access to power, Denfurlong Farm is an ideal spot for DIY weddings and private events. New to weddings and events, now is the time to visit and get your dates pencilled in.
Suave Owl Menswear
An award winning independent men's fashion boutique in Keynsham between the bustling cities of Bristol and Bath. Suave Owl provide effortless style and quality for all gentlemen. From kingsize attire to matching children's suits and everything in between. Our tweed style suits, shirts, shoes and accessories offer sophistication with personality.
And did you hear about the Suave Owl speakeasy? Grooms and best men can have their suits fitted in a secret bar tucked away behind the changing rooms of Suave Owl. The Suave Owl speakeasy is absolutely perfect for those who want to hold a Great Gatsby or Peaky Blinder's themed event, and is available for hire for Birthday's, Christmas, Stag and Hen dos. The gentlemanly styling lends itself to 1920's, prohibition orientated occasions.
Suave Owl are the 2019 Winner and 2020 Finalist of South West Weddings Awards Best Outfitters category. Find out more here.
Too Moo Films Wedding Videography
Mike is a Gloucestershire based wedding videographer who has worked in video production for over 10 years. After having a film made of his and Rachel's own big day, Mike was inspired to pursue capturing others unique days and special moments, to share that gift that their own videographer had given to them.
"To be able to create and replicate the feelings I had is a great privilege and honour."
Check out some of the weddings that Mike has worked at at TooMooFilms.com
Massive thanks to…
Karen at Cotswold Vintage Tea Sets for joining us to show off their beautiful vintage tea sets available for hire.
Karen at Pancake Hill Flowers for providing flowers
Beautiful, seasonal cut flowers grown in Chedworth for weddings, events, DIY flowers, church flowers, parties. Grown to order, zero air miles and a 'Pick Your Own Bouquet' service available. Chedworth, Gloucestershire.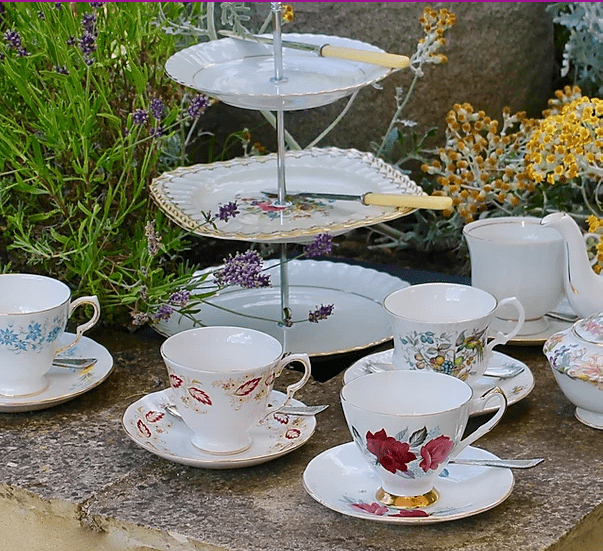 Cotswold Tipis Wedding Glamping
Did you know that Cotswold Tipis also provides bell tent hire for glamping at weddings and events? View our Wedding Glamping Bell Tents and Honeymoon Bell Tent. Would you like your guests to have the option to glamp at your wedding?